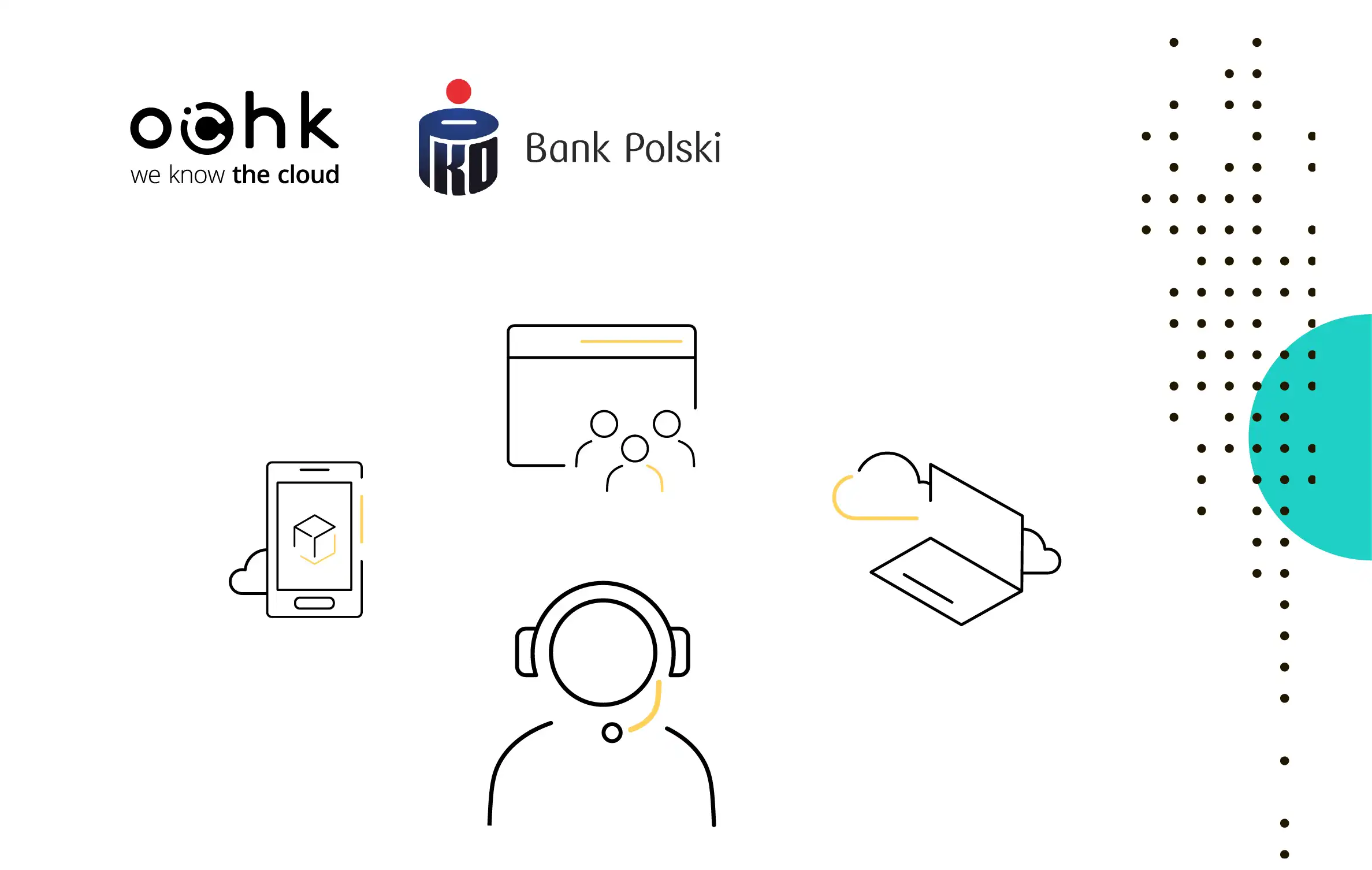 Case study / PKO BP
Savings on equipment purchases and power consumption, increased security and a flexible working environment – these are the benefits of moving PKO Bank Polski's data and applications to the cloud!
PKO Bank Polski has been a leader in the Polish banking market for many years. The bank, with more than a century of history, has been pursuing a digitalisation strategy for more than a dozen years. More than 11 million customers use banking services both through fully digital communication channels (mobile application, online service) and in almost 1,000 branches across the country, where PKO Bank Polski employees use software applications to efficiently process orders.
Challenges
Managing a fleet of nearly 12,000 devices was an organizational and financial challenge for the bank. Archiving a large volume of e-mail was also becoming increasingly complicated. Meanwhile, for a regulated entity, it was essential to ensure a high level of data security.
An opportunity to simplify the process of managing hardware and software applications arose from the need for an equipment modernisation. While replacing computers and terminals, PKO Bank Polski decided to completely change its operating model in this area and to strengthen the level of data protection.
Solutions
OChK worked with the bank's IT team to implement the Modern Workstation Service, which involves moving user data and applications to a cloud environment.
Bank employees have access to virtualized applications without the need to install them on an end-user device (desktop, laptop, mobile device or terminal)

The new HP terminals are energy-efficient devices running the Linux operating system that provide secure access to data hosted in the cloud

By migrating historical e-mail to a virtualized cloud environment, employees have continuous and easy access to all archived messages. Now, their e-mail inboxes have no capacity limit and they do not need the help of IT to access the e-mail archive
Results
As part of the implementation of the Modern Workstation Service:
12,000 terminals were replaced with modern, energy-efficient devices at half the cost of high-performance laptops and desktops

The level of data security in the organization has increased – no data is stored on the terminals. Loss or destruction of a device does not affect availability or security

Managing a fleet of devices is much easier – updates or changes to applications are made by administrators directly on the servers and reach all devices in real time

The bank's employees benefit from a very flexible working environment – access to data is independent of the device from which they log on or the location in which they work

PKO Bank Polski has secured significant savings by reducing fleet replacement costs, extending the depreciation period of devices, and decreasing power consumption by reducing the workload on terminals

Thanks to a stable, centrally managed runtime environment, applications run very smoothly – thanks to the implementation, employees now experience uninterrupted access to the work environment.
12,000
the number of terminals replaced under the project
32 TB
the amount of data migrated from devices to the cloud
130 TB
the size of the e-mail archive migrated
1000
nearly the number of physical locations (bank branches) covered by the project
Technologies used
DTM (development OChK) Horizon
Virtualisation and resource management tools